About Victors Hof
Situated in the stunning heart of rural Meetjesland, B&B Victors Hof is a welcoming and child friendly B&B, perfect for the recreational visitor.
Accessibility
Highway E40 (exit Nevele) or N9 (exit Zomergem) The village center in 2 minutes. Only 30 minutes away from Bruges https://www.visitbruges.be/ and Ghent https://visit.gent.be, and even the Belgian coast and Holland https://www.zeeland.com.
The surrounding countryside is quite spectacular and many cyclists, walkers and horse riders use this area for their enjoyment.
There is plenty of toeristic information available at Victors Hof. Your host is always ready to give the valuable tips that makes you holiday unforgetable.
B&B and apartment
For the guests of the B&B our hearty breakfast is served in the guest dining room with views over the garden, sheep and pony. Homemade and local produce is used where possible to ensure the best quality breakfast for our guests. Variety in the breakfast is top priority. Every day different kinds of bread, cheese, charcuterie, cakes, yoghurts, fruit salad, desserts, eggs and jam are being served. And of course granola, cornflakes and oatmeal are there as well.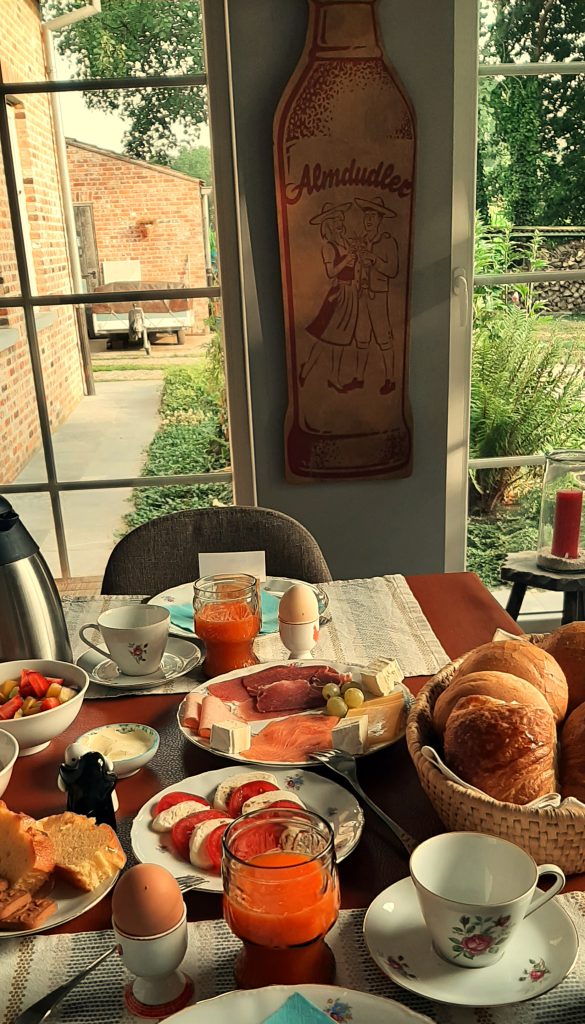 The garden, swimming pond and guest dining area can be used all day long. It's equipped with a fridge, microwave, plates, cutlery and glasses. In the honesty bar we have local beers, wines and soft drinks.
B&B and apartment can be booked together. If desired you can all eat together in the breakfast room. We take care of diets or food allergies. Just let us know!
Prices
One night in the B&B costs 115 euro. If you're staying 2 nights or longer, the cost will be 105 euro per night. Breakfast is always included. Children that sleep in a cot don't have to pay.
A booking in the apartment is 110 euro per night. It's only bookable from 2 nights. We provide sheets and towels. If you should like to bring them over, we reduce the price to 100 euro per night. Additional breakfast in the apartment is at 15 euro per person.
Garden
In the garden you can relax in the garden seats or the lovely hammock. You can also enjoy the swimming pond as much as you want to.
Our housecat, Tijgertje, will welcome you with great enthusiasm. In the meadow 5 sheep and a small pony are waiting to be petted. Animal friends can always visit them.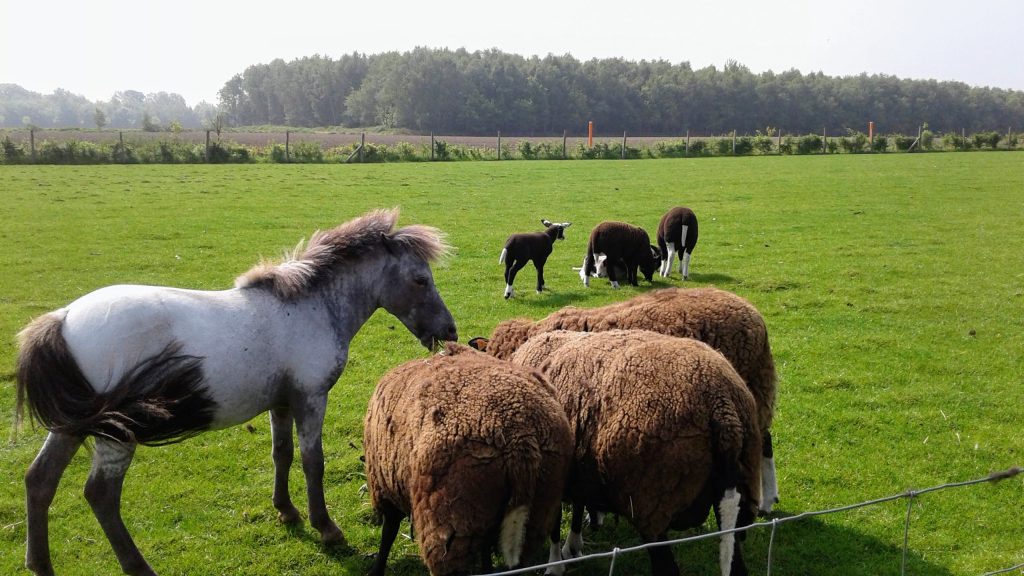 Barrelsauna
The barrelsauna in the garden is bookable at €15 per person. Towels and bathrobes will be provided.
Would you like to book?
Tel: 0032495/30.06.89
email: victorshof@telenet.be
Adress: Bauwerwaan 60, B-9930 Lievegem
Looking forward to welcoming you!
Katrien, Jurgen and children Leni and Marcus
Check-in: 16.00 – 22.00
Check-out: until 11.00
Belfius: BE69 0636 8067 2778 (payment can be made by bancontact or cash)
VAT: BE0741.378.423